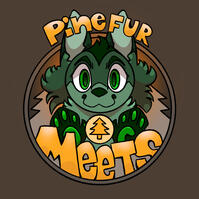 Welcome to the Pinefurs
We host furmeets in Southern New Jersey! Below, you can find more info and links to our various pages.
RULES
1) Respect the venue. This includes following their rules, and cleaning up after yourself.
2) No harassment. If someone says no, no means no.
3) Respect others. We're all here to enjoy the event. Your enjoyment should not involve hurting others or intruding on their space when unwelcome.
4) Respect yourself. Berating yourself, or otherwise general misconduct that makes others uncomfortable, will not be tolerated.
---
---
---
---
---
---
---
---
---
STAFF
Toofy - Founder; Social Media; Webmaster
Aspen - Lead, Design
DaksKat - Lead, Branding
Lyra - Lead, Logistics; Social Media
Aros - Lead, Operations
JustAKat - Lead, Marketing; Social Media
Chester - Lead, VR and DiscordEvents are organized for everyone's enjoyment. This should not include observing lewd or disturbing behavior.《Soft violation of the rules, gets a warning. Repeated violations results in blacklisting.》
---